COMPLETED
"Holy Light"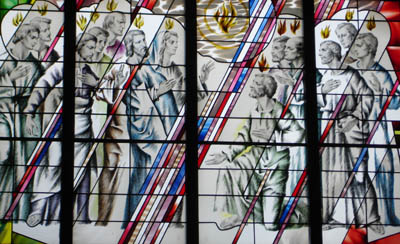 Stained glass work of A. Elskus in St. Gertrude's Cemetery, The Good Shepherd Chapel-Mausoleum, New Jersey
"Baltic Film Group" finished the shooting of the documentary telling about one of the best-known Lithuanian emigrant artist, stained glass master and painter Albinas Elskus. One hour cinefilm will memorize his stained glass windows in different temples of the USA and the very artist himself.
The director Gytis Lukšas and director of photography Algimantas Mikutėnas left for the USA on the 17th of August accompanied by a famous Lithuanian American cultural activist Beatričė Kleizaitė-Vasaris who initiated the idea of the film. They were shooting in the States of New York, New jersey and Maine till the 2nd of September.
The film makers continued the shooting in Lithuania, in Kaunas, where the artist was born and lived till the emigration.
The premier of the film is planned next year.
A. Elskus is world-famous 78 year old stained glass artist, who lives in the State of Maine. He is a corresponding member of Stained Glass Association of America (SGAA) and received the prestigious SGAA award for lifetime achievements.
The artist created more than a hundred monumental works of sacral art - stained glasses and mozaics in St. Catherine of Siena Church (New York, N. Y.), National Shrine of the Immaculate Conception (Washington, DC.), Zion Lutheran Church (Staten Island, N. Y.), Gate of Heaven Cemetary Mausoleum (East Hanover, N. J.), Lithuanian Martyrs Church (Missasaque, Ontario, Canada), The Holy Spirit Church (New Hyde Park N. Y.) and much more.
Albinas Elskus was born in Kaunas, Lithuania. He first became acquainted with stained glass while studying at the institute of Decorative Arts in his native town. After World War II he studued architecture at the technische Hochschule in Darmstadt, germany, and painting at the Ecole des Arts et Metiers in Freiburg. After arriving in the United States in 1949 he completed the four-year apprenticenship program of Stained Glass Association of America in Chicago and New York. He was part owner of Durhan Studios (New York), later on became a free artist.
From 1973 to 1992 Albinas Elskus worked as an instructor in painting and drawing at Fordham University in Bronx and in Parson's School of Design in New York City.
A. Elskus was the head of the New York Lithuanian Artist Union. He arranged personal exhibitions in many states of the USA, also in the Vatican Museum in Rome and wrote a book "The Art of Painting on Glass". A. Elskus is a stained glass artist and frequent exhibitor whose works are part of many private and public collections.
asd