completed
"Störtebeker"
Bavaria Film (Germany)
Baltic Film Group (Lithuania)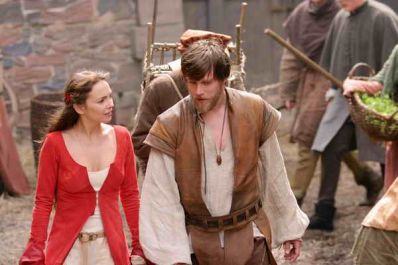 Claire Keim (Elizabeth) and Ken Duken (Störtebeker)
German filmmakers finished shooting a historical adventure drama "Störtebeker" in Lithuania, in August.
It is a joint project of "Bavaria film" and "Baltic film group". This three hour film will tell a story of Klaus Störtebeker, the first pirate who lived more then 600 years ago causing fear and horror in the Baltic and the Northern seas. His slogan was "A friend of God and an enemy of the world". His adventures have become legends and are told till now.
The film staring German actors Ken Duken (Klaus Störtebeker), Stephan Luca (Simon Valenrod), Miguel Herz – Kestranek, Frank Giering, Gottfried John and others. Klaus Störtebeker's beloved Elizabeth is played by French actress Claire Keim. The role of queen Margarethe is played by famous German film actress Gudrun Landgrebe. Second part roles are played by Lithuanian actors among which are Gediminas Storpirštis and Lina Budzeikaitė playing Klaus Störtebeker's parents.
The size of the film will measure up to "Attila" - an American TV film shot here in year 2000. About a thousand costumes were needed to dress the actors and extras.
The filming took place in Trakai, Kaunas, Klaipeda, Nida and Sventoji. When shooting at the seaside a big ship was plunged into water. The kind that merchants of Hanza used to sail in in XIII - XVI centuries.
Film director - Miguel Alexandre
Director of Photography - Peter Indergand
Screenplay - Walter Kärger
General producers - Stephan Bechtle, Jan Kaiser
Line producers - Jochen Ludwig, Herbert Hauβler
Producer - Ulrike Koeppen
Co - Producer - Robertas Urbonas
Production designers - Petra Heim, Augis Kepežinskas
Costume designer - Daiva Petrulytė