completed
"Forest of the Gods"
Baltic Film Group (Lithuania)
IMS 6 LLP (Great Britain)
Psychological drama, 2005, 110 min., 35 mm, color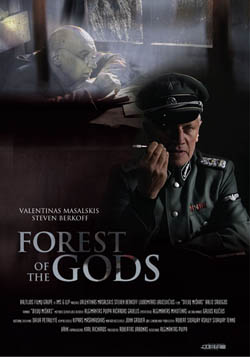 The national premiere of "Forest of the Gods" (director A. Puipa) was held in the cinema centre "Coca Cola Plaza" in Vilnius on the 23rd of September. The film is already shown in Kaunas, Panevezys and Klaipeda in the surroundings of which the film was created.
Within more than 2 months "Forest of the Gods" became the most profitable film in the period of independent Lithuania (Box office number 1 in Lithuania). Over 50 thousand people already saw the film.
The world premiere of "Forest of the Gods" was held in Montreal Film Festival in Canada (September 19-25). The film also participated in Pusan Film Festival in Corea (October 6-14). From 3rd till 6th of November "Forest of the Gods" was screened in Nordische Filmtage Lübeck. There were three sreenings of "Forest of the Gods" in Lübeck. The film was met with favourable interest of audience, jury members and film critics.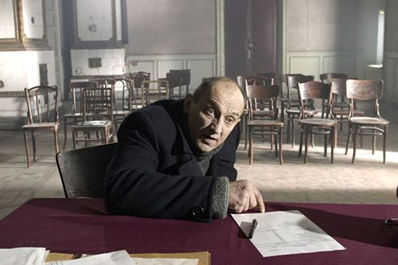 Professor - Valentinas Masalskis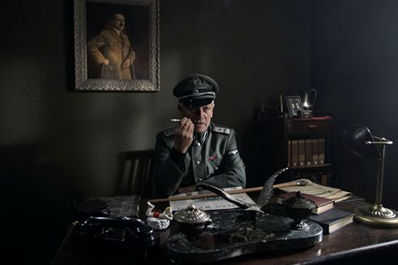 Commandant Hope - Steven Berkoff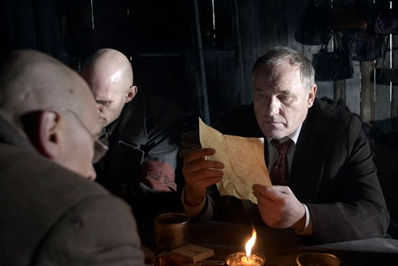 Vacek Kozlovski - Liubomiras Laucevicius
Director - Algimantas Puipa
Director of Photography - Algimantas Mikutėnas
Screenplay - Algimanto Puipos, Ričardo Gavelio
Composer - Kipras Mašanauskas
Production designer - Galius Kličius
Costume designer - Daiva Petrulytė
Editor - John Grover
Executive producers - Robert Sidaway, Ashley Sidaway, Tonno Vahk
Producer - Robertas Urbonas
Co-Producer - Karl Richards
Starring: Valentinas Masalskis, Steven Berkoff, Liubomiras Laucevičius, Rolandas Boravskis, Marius Jampolskis, Vaidotas Martinaitis, Šarūnas Puidokas, Ramūnas Šimukauskas, Robertas Urbonas, Rimantė Garbaravičienė, Diana Anevičiūtė, Regina Arbačiauskaitė-Flick, Monika Bičiūnaitė, Saulius Mykolaitis ir kt.
This film, having unusual stylistics, original dramaturgy and direction, is telling a story about a man, an artist, a thinker, who remained unbreakable prisoner of two regimes - soviet and Nazi.
... The main character of the film - Professor - an exceptional personality living by his own Decalogue, own morale and truth principles. After being imprisoned in a German concentration camp he becomes a part of a drama of the condemned. Irony helps him to survive in this extreme situation and distances him from the cruel reality. Back from the concentration camp professor writes a memoir where he pictures the death "Babel" - Stuthof sarcastically, but the Soviets would never accept it. The so called soviet freedom becomes just as much a challenge as the German concentration camp.